Expert propane tank installation and service
When you are ready to explore your options for propane tank installation and propane line installation, you owe it to yourself to call DeSousa Oil and Service Corp. first. Our highly-skilled and trained technicians and tank installers can answer all of your questions about propane tank installation and service.
Propane tank installation: cost savings and reliability
DeSousa Oil and Service Corp. provides expert installations of top-quality propane above-ground tanks and underground propane tanks for your home or business. Our crews are among the best in the business and will work quickly and efficiently to ensure your new propane equipment is installed properly. If you are worried about the cost of propane tank installation, you might be surprised to find that it is more affordable than you think. Call us for an estimate.
Known for our professional courtesy and our propane knowledge, you can depend on us for reliable, honest service. All of our propane tank installations are conducted in compliance with local laws and building codes.
Once your new propane tank installation is complete, our technicians will continue to provide maintenance services on your leased tank to keep your equipment running at peak efficiency for years to come.
Propane Tanks and Propane Tank Refills
DeSousa Oil and Service Corp. is your source for all of your heating needs, now including propane and tank installation.
Today's propane-powered home is energy efficient and comfortable, providing a reliable fuel source for all of your residential and commercial needs. Whether you are powering small propane-powered appliances or large propane home comfort systems, DeSousa Oil and Service Corp. is your go-to source for propane tanks and propane tank refills.
Looking for a propane tank?
DeSousa Oil and Service Corp. doesn't just deliver propane for your tank; we also sell, install, maintain and repair all kinds of propane tanks. Available models range in size from 100 pound tanks to 1,000 gallon tanks, above ground and buried.
Propane is a clean-burning, environmentally friendly fuel that can power everything in your home, from space heaters to indoor and outdoor lighting and so much more. We sell both above-ground and underground propane tanks.
All of our licensed technicians are certified for your peace of mind. We provide full propane tank sales, propane fuel delivery, tank maintenance, tank installation within our service area. If your home or business runs on propane, we can support you with our top-quality tank and delivery services you need at prices you can afford.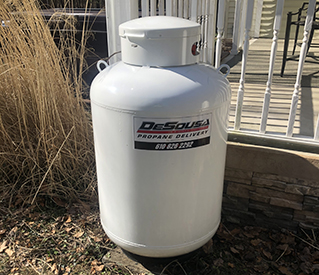 More than 14 million families across the United States use propane to power their appliances and home comfort systems – and for good reasons.
As a fuel for your home, propane is:
Versatile – Propane can power everything from fireplaces to water heaters, to ranges all from a single tank.
Efficient – Propane is one of the best fuels you can use in terms of producing BTU's per dollar. You can cut your energy costs by as much as half by switching from electric to propane appliances.
Eco-Friendly – Propane gives off less than half of the greenhouse gases that coal-fired electricity does. In fact, propane is one of the cleanest burning of all fossil fuels.
Safe – The propane industry is well regulated and follows standards set by the National Fire Protection Association (NFPA), the Department of Transportation and the Department of Energy – all whom make very strict rules about propane handling.
American – Most of the propane used in the United Stated is produced right here at home, which means the gallons you buy contribute to America's energy independence.
Effective – Homeowners enjoy the comfort, convenience and cost savings that propane allows while business owners use it for everything from office heating to vehicle fuel.